From the Diatto-Bugatti racing cars to the "Type 26" Maserati: Diatto, the genesis of a myth
300 times on the podium: with the great champions such as Maserati, Nuvolari, Brilli Peri, De Sterlich, Meregalli…….
Bugatti-Diatto, Status-Symbol Automobiles: aeronautical engines, cars and winning racing cars
From the Diatto racing cars evolved the Maseratis: the Type 26 are the former Diatto 8C Gran Prix compressor
Extraordinary historical background: a 2000 magazine pages of historical value ready for press campaigne
Technological supremacy: 1850 – the perfectioned wheel, 1920 – gears, braking assembly, feeding assembly……all patented
Performance supremacy: in 1919 and in 1926, the Diattos are the fastest Italian "2-litre" current model cars on the market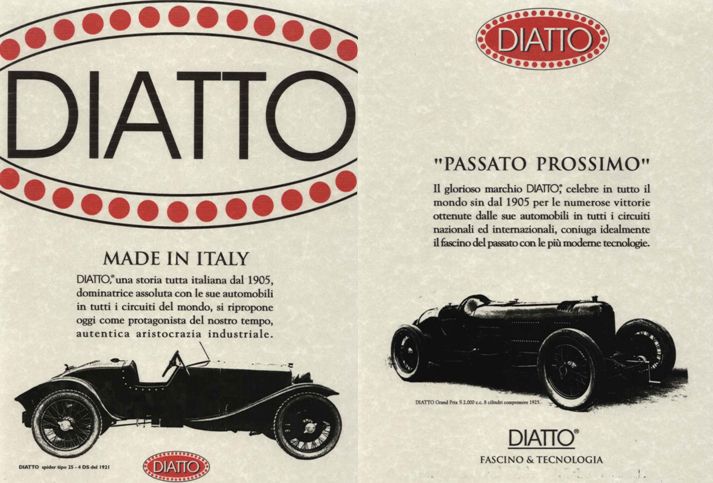 Excellence of style: the classic design of the Diatto radiator with its straight line, its low chassis, the elegant body-work ………….became widespread by many
Nobility and luxury: 1911/1927, the Diatto is the Official Supplier of the Royalty House. Enzo Ferrari is among its first clients.
Prestigeous trade mark: the competitive advantige marked 'Not reproducible', inherent in its sporting tradition. Stong image appeal and commercial advantage thanks to the cultural importance of the campaign
1905-2005, foundation centenary: an out-of-common historical background, a value many automobile trade marks can only long for. The investments made to advertise and make its extraordinary history known to the public at large are rewarding considering its Unequalled Competitive Advantage.
A longed-for market for the GT Sports-cars: a unique opportunity of an Authoritative Access to the segments of major profits and better image.
Trade mark registered in 5 continets: a unique opportunity of a complete commercial exploitation, ranging from the road, sea and air means of transport to the luxury goods; registered Internet domains.
Official Valuation Expertise of the trade mark Diatto
Sworn expert's estimates made by firms specialised in valuations of the world trade mark